4 Memorable Historic Venues for Your Next Meeting
These unique historic spaces require thoughtful consideration for your group.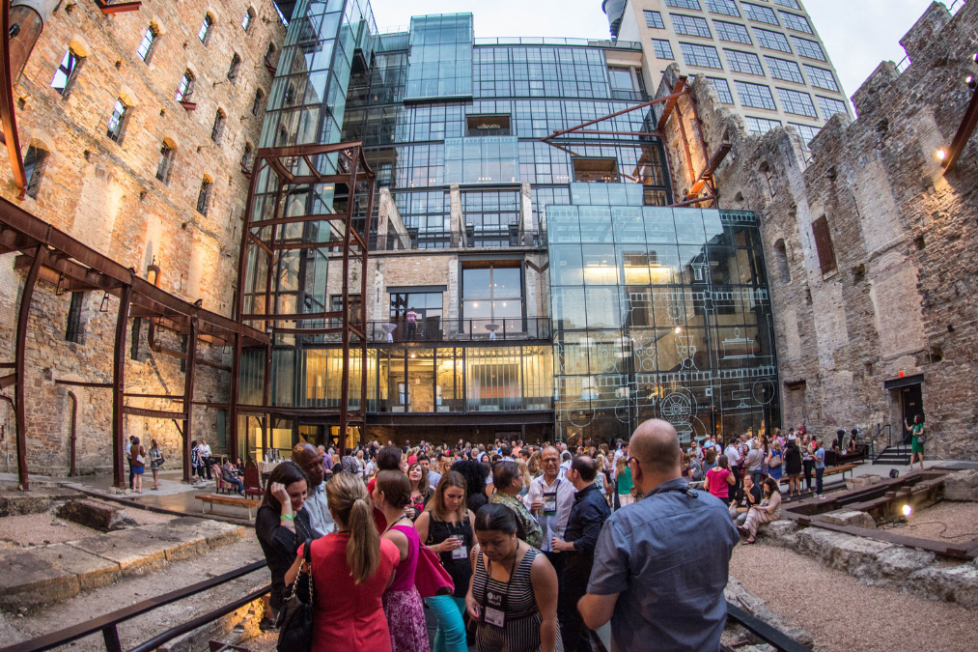 By Maura Keller | Mill City Museum © Coppersmith Photography
Stunning architectural elements. Unique historical pasts. Awe-inspiring details. These are some of the attributes that historic venues offer meeting and event attendees. Memorable rather than commercial, these gems offer a bevy of unique accommodations and amenities. Adept at serving groups as small as 10 and as large as 1,000 underneath glistening chandeliers and amidst carved granite columns, these full-service venues dot the Midwest landscape and leave a lasting impression on attendees.
"When hosting a meeting or event in any destination, we as event professionals should strive to share the destination's culture and history with our participants," says Heather Herrig, CMP, president and chief event strategist at ELD Events. "While modern options can certainly offer plenty of culture, tapping into a destination's past by showcasing historic venues is extremely special. These venues are incredibly unique, and there's no substitute."
For Bonnie Boyd, CMP, DMCP, president and CEO of BBC Events, focusing on the specific historic "background" of a venue can lend interest and education as well. Here is where creativity can enhance the experience by focusing on the unique/unusual profile of the venue.
"Architectural and historical character of the venue is obvious, but what about the use(s) of the venue over time, and its evolution and its changing reputation? And creative focus on who and what happened on the site can be featured — from menu and musical selections to interactive and educational activities," Boyd says. "The sustainable aspect of the historic venue also can play an important role: by supporting the heritage and maintenance of the historic venue the planner can enhance the corporate sponsor's commitment to historic sustainability as well as lend a sense of shared 'esprit de corps' and giving by the guests/participants."
KEY CONSIDERATIONS
Of course, hosting events at historic venues can also bring challenges. As Herrig points out, as many were built before the Americans with Disabilities Act was signed into law, first and foremost, planners must be very careful that the venues are accessible to all. In addition, planners need to ask the right questions to ensure that the venue can support the logistics required by the event.
"Are there ample restrooms? Can our caterers adequately serve our guests? Do we need to address any safety concerns (e.g., steep stairways or dark passages)?" Herrig says.
Above all, when selecting historic venues, planners must ask themselves if hosting at a historic venue aligns with the group's culture and supports the event's overall goals.
"If the group will not necessarily appreciate this nod to the past, then our investment is best placed elsewhere," Herrig says. "We always want to put ourselves in a position to help our guests and participants experience new things, but if it's going to fall flat, we should consider other options. And if you're not sure, don't be afraid to ask decision makers directly, or better yet, a sampling of your participants. Don't assume either way."
Imagine hosting an event in the ruins of an old flour mill a few yards from the Mississippi River. The Mill City Museum is a 120-year-old historic gem on the edge of downtown Minneapolis that provides the ideal backdrop for meetings and events of all sizes. Towering rusted steel, weathered brick and classic wood elements combine with historic relics from the mill's past to create an innovative and modern feel to this picturesque space.
Considered a National Historic Landmark, the Mill City Museum boasts an expansive outdoor courtyard, as well as several other meeting and event spaces to offering one-of-a-kind experiences for up to 1,000 attendees.
Grand Rapids, Ohio, is home to Nazareth Hall, a former classic Catholic boarding school set amidst 37 acres of green space. Built nearly 100 years ago, Nazareth Hall was permanently closed in 1982 before being completely renovated and retrofitted as the ideal event center in 1991. Since that time, this venue has become a beacon for meeting and event planners looking for a classic architectural gem that will leave attendees eager to visit again.
Featuring grand ballrooms, meetings spaces and classrooms aplenty, Nazareth Hall has played host to numerous gatherings throughout its history as an event center and has proven to be an ideal location for conferences, corporate retreats, business meetings and corporate parties.
Built in 1839, the Hotel Julien, which has undergone a series of name changes throughout its long history, was a welcome respite for visitors traveling on the mighty Mississippi River, including such dignitaries as Abraham Lincoln, Al Capone, "Buffalo Bill" Cody and Mark Twain. Today, the Hotel Julien is an elegant, historic space that combines modern amenities with historic flair, thanks in part to a $33 million renovation. Located on the historic Main Street in Dubuque, Iowa, the Hotel Julien features over 14,000 square feet of meeting and event space. The hotel's Grand Ballroom offers an idyllic setting for corporate gatherings thanks to the towering crystal chandeliers, enormous windows and architectural elements of yesteryear.
The Oliver Building has donned more than a few hats during its storied past. From housing an automobile manufacturer to agricultural organizations to aviation production, the century- old building has reinvented itself into a much- sought-after event space in the heart of Kansas City, Mo.
It was in 2015 that the Oliver Building began undergoing a dramatic restoration, after years of neglect and abandonment. Due to the significant decline of the building, the restoration required several years to bring it back to its original glory. Today, the venue is the ideal backdrop for conferences, meetings, galas and other events. With three floors and over 30,000 square feet of event space, the building can host up to 900 guests. For smaller gatherings, companies can enjoy multiple breakout spaces and an outdoor patio area for meetings in more natural surroundings.
---
Maura Keller is a freelance writer based in the Twin Cities who regularly writes for a number of trade publications in the meetings and conventions space.