4 Meeting Room Design Trends to Copy Now
Four meeting room trends for your conference redesign.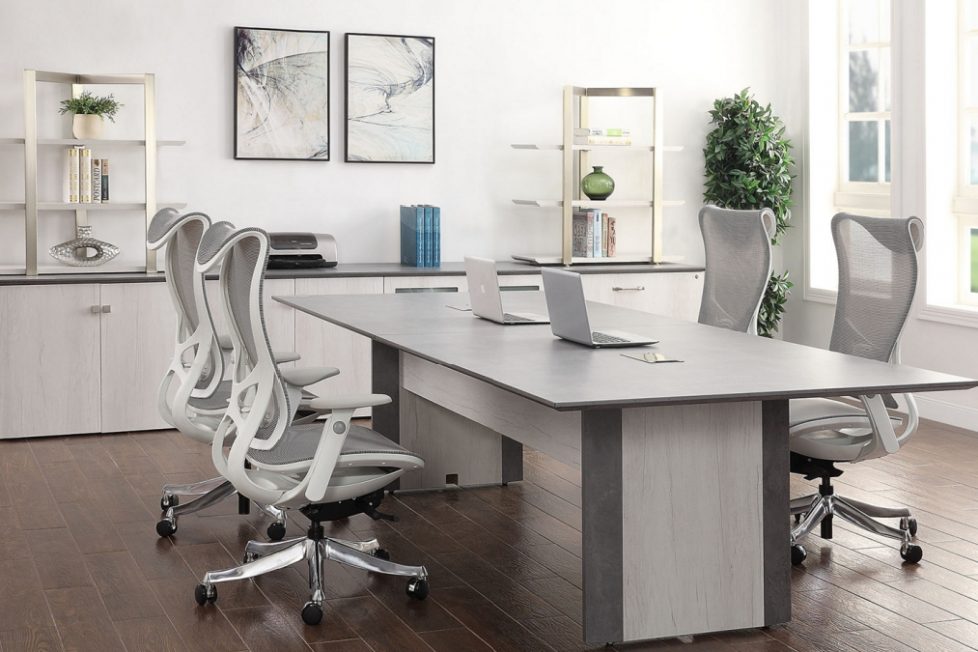 By Tonya Dybdahl
Meeting room design sets the tone for every gathering that happens in that space. When embarking on a conference room redesign, there are some factors you'll always want to consider, like egress requirements, spacing, sightlines, natural lighting and ergonomics.
If you want to create a space that's on-trend in 2022, we have to start with the way work has transformed over the past couple of years. Companies are looking for ways to compete with the creature comforts of the work-from-home lifestyle. Professionals want spaces that will make them feel inspired and connected. Everyone is craving more flexibility. These changes have driven four major trends in meeting room design.
1. CREATING FLEXIBLE SPACES
Instead of a single-purpose conference room with a large table surrounded by task chairs, we're seeing a rise in meeting rooms that offer more flexibility. That means planners are including comfortable, inviting furniture with sophisticated lines. These spaces evoke touches of hospitality environments rather than the dry corporate environments we've come to expect.
A conference room isn't just a conference room anymore. It's a space for colleagues to brainstorm, relax, stretch their legs, take a break from their desks or connect in real life. You'll want to find ways to incorporate flexible furniture and design elements, so your meeting space can adapt to support all these functions.
How you can play with this trend
Use smaller modular tables that offer the flexibility of being grouped together to form a large table or separated to create smaller workspaces.
Look for adjustable height conference tables and media tables that allow teams to incorporate movement into meetings and make that daily stand-up a literal stand-up event.
Consider creating open or partially enclosed meeting spaces instead of the traditional four- walls-and-a-ceiling conference room.
Use plants to divide spaces with open bookshelves, plant walls or felt dividers.
2. BRINGING ELEMENTS OF A COZY, WORK-FROM-HOME ATMOSPHERE INTO THE WORKPLACE
The pandemic prompted a massive shift in the way we work. With millions of Americans making the instant switch to working from home, professionals grew to love touches of comfort throughout the workday.
We're seeing an influx of Millennial- and Gen-Z- approved furniture throughout the office, especially in collaboration spaces. Think enticing, playful textures and warm colors that hint at a Wabi-Sabi aesthetic. Commercial fabrics, like performance velvet and bouclé, that mimic residential fabric have also become more popular.
Plants are being used more often in office design. Including plants in your space planning gives your office a homey feeling and may have health benefits. Studies have shown that indoor interactions with plants can reduce stress and contribute to improved moods — something we could probably all use more of.
How you can play with this trend
Try warm colors like dusty pinks, greens, creams and earth tones.
Find upholstered furnishings with soft, inviting fabrics that boast residential-level comfort.
Play with modular sofas and more casual chairs to create a relaxed atmosphere.
3. SEAMLESSLY INCORPORATING TECH
Technology should be unobtrusive yet accessible in modern meeting spaces. Office design has adapted to meet in-person tech needs (like charging stations) and help hybrid teams feel more connected. Furniture brands have found new ways to disguise power connections through hidden power centers or wireless charging.
As hybrid teams have become more prevalent, companies have started investigating ways to make hybrid meetings more personal and engaging. Organizations have begun to adapt by using multiple cameras to capture in-person attendees better and adjusting the seating setup so that the video screen is more central to the gathering. If you're designing for hybrid teams, you definitely want to consider how your design can support connection through technology.
How you can play with this trend
Choose furnishings equipped with power stations.
Experiment with multiple cameras in the meeting space to better capture in-person attendees.
Find ways to center your video screen so the interaction feels more personal, especially when working with space supporting hybrid teams.
4. EMBRACING SUSTAINABLE ELEMENTS
Now there are so many more sustainable options than there were even a few years ago. As environmental stewardship becomes more central to business planning, consider incorporating sustainability into your conference room design. Look for furnishings that are certified by BIFMA, an independent organization that measures sustainability. Some retailers have even started selling used office furniture. In addition to reducing waste, this can be a more affordable solution for smaller companies who don't need large furniture quantities and can't afford the list price.
How you can play with this trend
Find furnishings made from sustainable materials.
Choose BIFMA-certified products.
Consider second-hand office furniture.
Donate or recycle old furniture.
KEEP MEETING ATTENDEES AND USERS IN MIND
Ultimately, you want to ensure you're designing meeting spaces that best serve the people who will be using it. Let these trends guide you to find ways to support your teams and attendees, but you always want the end-user to guide the design — even if that means deviating from the latest trends.
---
Tonya Dybdahl is Space Planning and Design Department Manager for National Business Furniture. She oversees a team of creative designers and project managers, designing meeting spaces for corporate clients of all sizes in a variety of industries including healthcare, education, hospitality and government.