Fall Flavors: Creative Cocktails for the Cooler Months
Creative ways to offer unique drink experiences for your group.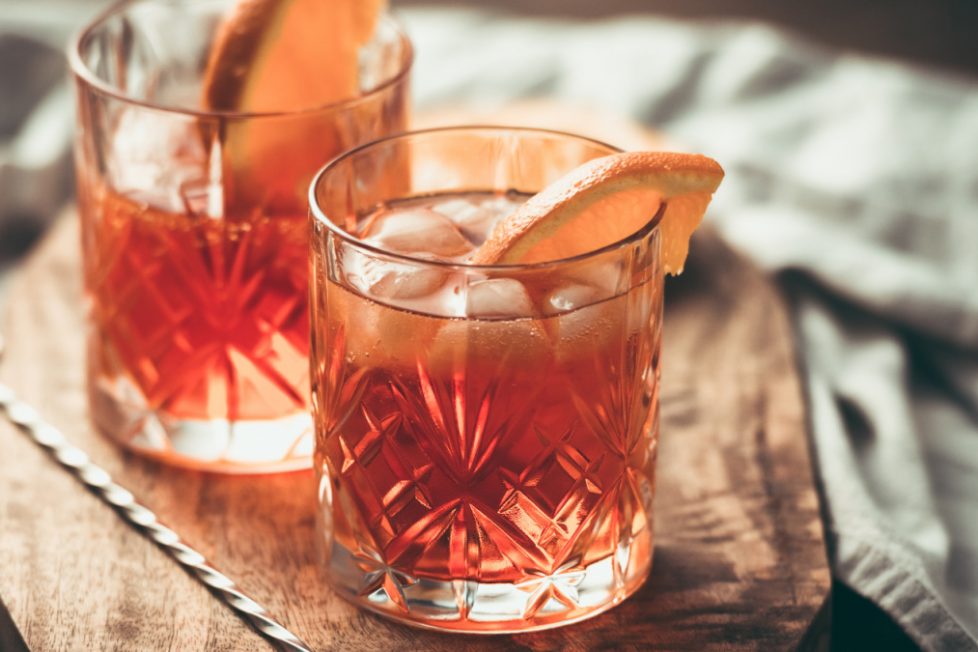 By Kristine Hansen
"Summer's all about gin and vodka — light, bright and refreshing," says Kodi Satra, general manager of Tattersall Distilling & Events Center, in River Falls, Wisconsin, and Minneapolis.
Fall and winter cocktails, on the other hand, embrace heat (either warmed or with a "kick") and spicy layers.
Jorge Centeno, chief spirits officer at Deer Path Inn in Lake Forest, Illinois, uses each new season as an opportunity to reinvent the cocktail menu. "For the fall and winter months I like to use ingredients that represent that time of the year," he says. For example, "warmer, more spiced ingredients" such as brandy, cognac, mezcal, bourbon, scotch, deep red-wine reductions, mead and a juniper-forward gin. This focus extends to every ingredient in a drink. "I prefer to use late-harvest fruits and ingredients like pumpkin, apples, corn (for syrup), hawthorn fruit, rosemary, pine needles, pinecone syrups, cinnamon and baking spices," he says.
When developing a menu of seasonal drinks for your event or meeting, you'll have more success if you aren't too obvious with the flavor profile. Make this a subtle ode to the fall and winter months — not in-your-face flavors.
Brittany Hogans, bar manager at Kimpton Journeyman Hotel in Milwaukee — which offers many private event spaces for groups, including its three-season rooftop bar called The Outsider — couldn't agree more. "It's important to have fall flavors in there without being in your face," she says.
"I always think of pumpkin spice latte and Starbucks, and that whole crazy cult following," says Satra. But instead of emulating those flavors, she uses them for inspiration. Cardamom and cloves are typically in a pumpkin spice latte, and even without the pumpkin contribute to a fine drink recipe. For cocktail syrups, she'll infuse fruits and botanicals to celebrate the cooler months and offer a heavier drink than might be suitable for summer.
Another tip is to dehydrate fall and winter fruits for garnishes. Examples might be apple and orange slices. "An easy way to evoke fall is by using colors and dry ingredients such as dehydrated oranges and lemons," says Centeno. "It gives your cocktail those golden warm colors of the fall."
Rosemary and sage are two other herbs that speak to the season. For an Old Fashioned, Satra likes to incorporate a dehydrated orange wheel with a skewered cherry. "I love dehydrated citrus," says Satra. "They keep forever and never go bad." This is especially important when serving drinks to a large group within a tight time frame: slicing and dehydrating can be done in advance.
When it comes to garnishes, thinking beyond the typical for the fall and winter seasons is a sure way to wow the guest. "I also like the use of corn husk, grasses and leaves," says Centeno. These keep just as well as other garnishes and might even encourage some photos for your social- media sites.
If one is still stuck on what to use for garnishes, Hogans suggests building on flavors already in the drink. For example, if there is a cranberry-infused spirit, or even cranberry juice, why not literally add a frozen cranberry on a skewer? Or skewer an orange slice to pair with any citrus-infused drink? Pomegranate seeds are a winter garnish Hogans turns to often, as well as dehydrated rosemary shrubs, which add some immediate dimension and texture to a drink.
Don't forget about sugared and spiced glass rims. Adding a dash of chili powder or cinnamon sugar can also help drive the point home that this is a fall and winter cocktail.
Considering the flavor profile of a drink's dominating spirit is another place to start. "Anything that's reminiscent of warmth. Everyone thinks about bourbons and whiskies," says Hogans. "Mezcal is another winter spirit … that smoky, rich flavor." This agave-infused spirit
from Mexico is not as well-known as tequila, but that's quickly changing. Don't forget about drinks' aromas, says Hogans, as these can also cultivate a sense of warmth. A whiff of cinnamon can be just as cozy as a warm sweater, and spices can easily evoke a warmth within winter's chill.
To further speed up the serving time for a group to receive their cocktails, ready-to-drink cocktails in a can — which are all the rage for consumers right now because all you have to do is pull back the tab and drink — are an ideal solution.
"You pour it over ice and it's done," says Satra. "You can put an herb in there to make it even fancier." Tattersall Distilling produces a line of ready-to-drink cocktails that includes Corpse Reviver #2, Manhattan and Old Fashioned.
But if preparing drinks on site is non-negotiable, there are still steps you can take to deliver drinks to guests quickly. By keeping the spirits combined, but the juices and sugars separate, "it keeps (ingredients) fresh and more consistent," says Hogans.
Centeno has three go-to drinks just for groups that may require a little bit of prep time but won't keep the guests waiting. "I will recommend mulled wine, which is easy and a great option for cold months," he says. "Another is warm and spiced apple cider, which you can keep warm in a thermos or crockpot and just add a shot of brandy or Mezcal before serving. Also, I like to recommend traditional Mexican punch. It's a hot punch that includes all kinds of fruits and sugar cane. Just keep it warm and add a shot of rum when ready to serve."
Mocktails are growing in popularity and should be included in any drinks program at a meeting or event. Approaches are moving beyond simply stripping the alcohol from the recipe. Now mocktails are just as exciting to photograph and sip as their spiked counterparts on a drink menu. Even so, popular drinks can serve as inspiration. One of Satra's favorite mocktails to make is a riff on the mojito, turning to fresh cucumbers (blended in a blender) for both body and flavor. Flavored soda waters are another option to add flavor, in lieu of alcohol. Another mocktail recipe she often makes is "Gold Rush," with ginger, honey, lemon, rosemary and cardamom.
Just as he might for fall and winter cocktails, Centeno turns to seasonal juices for mocktails: lingonberry juice, cranberry reductions, apple cider and pumpkin purée.
It's important, due to this increased demand, to have more than one option so the guest feels like they have a choice. "I like to offer our guest at least two options on the menu of non-alcoholic cocktails," says Centeno. "It's usually a riff on one of our signature cocktails without the alcohol. Same presentation (and) always looking to create the same flavor as the real one."