Five Ways to Keep Virtual Attendees Engaged
Keeping people engaged during virtual meetings requires planners to stretch their creativity.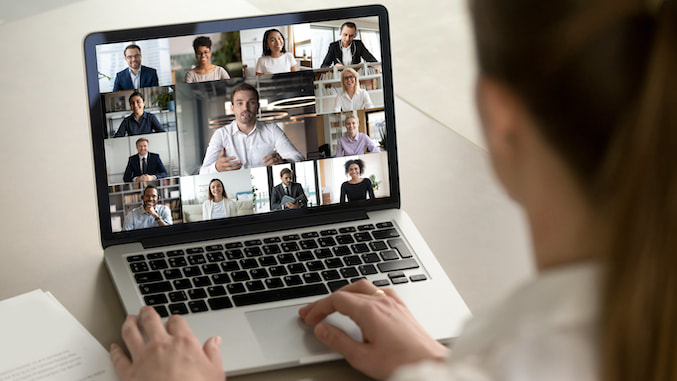 By Ronnie Wendt
In today's COVID-19 meetings and events scene, the term Zoomed out describes the fatigue and zoning out attendees experience after endless virtual meetings, chats and quizzes.
Keeping people engaged during virtual meetings requires planners to stretch their creativity, states Michael Dickinson, director of operations for Conference Technologies Inc., an audiovisual company that helps plan virtual meetings.
Dickinson offers five approaches to keep attendees' attention during virtual events.
1. Add in Gamification
Putting attendees in a quest for prizes keeps engagement high. Dickinson suggests using Jackbox TV. Here, attendees connect to a jackbox.tv web address, enter a code and join the game. The game might involve trivia, virtually visiting event sponsors, or taking polls or surveys.
2. Hire an Emcee
An emcee livens up a virtual event and keeps attendees talking. A good virtual emcee adds in audience interaction throughout the event. He or she also might guide and read off poll results or direct Q&A sessions.
3. Add in Live Polling and Q&As
Live polls and surveys personalize a virtual event and enhance the overall experience. Polls keep attendees on their toes while providing data on attendee participation and engagement. Asking questions of experts and letting them answer also provides opportunities to learn.
4. Set Up a Lobby
If the event begins at 10:30 a.m., Dickinson recommends opening a virtual lobby at 10 a.m. Include chatrooms for networking, gamification and polls to promote participation. Include a performance to infuse flavor and interest. "I had one company hire a magician to perform in the lobby of their virtual event," Dickinson says. "Attendees loved it."
5. Don't Overlook Production Quality
Virtual events call for a professional look to keep interest high. Make branded backdrops, great visuals and high-quality video a mainstay for every virtual event.