Presenting the Video Conferencing Platforms
Breaking down the most popular virtual meeting platforms on the market.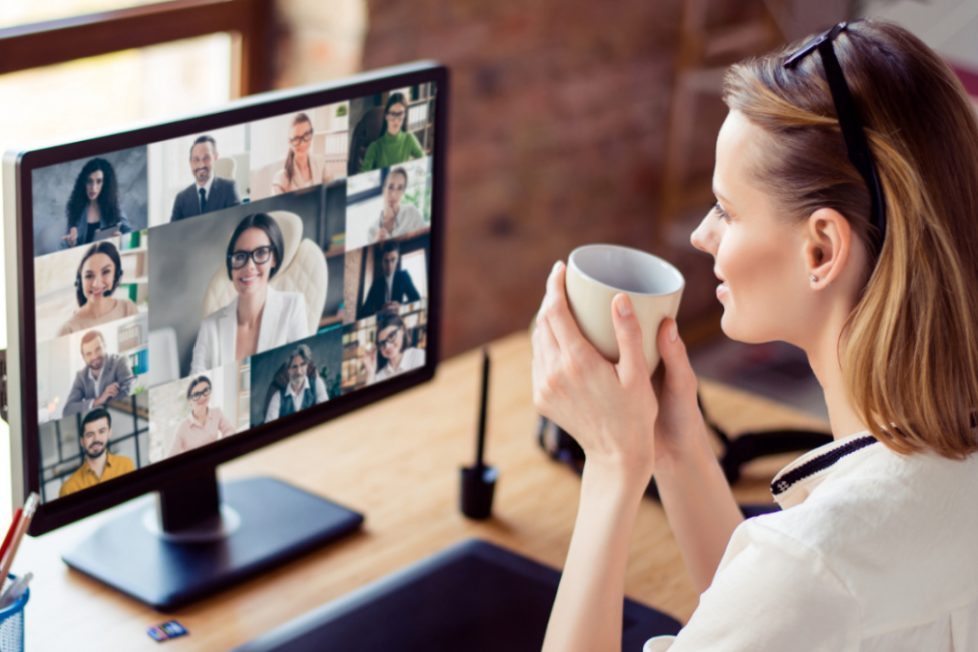 By Greg Gerber
Video conferencing has been widely available since the advent of broadband technology in the early 2000s. However, the pandemic and the subsequent challenges with bringing groups together has made it an essential and acceptable way to communicate and meet for most companies these days.
Common features include talking to participants around the world in real-time as well as sharing screens and customizable backgrounds. Many products include a chat feature enabling people to send messages directly to each other or share with the group.
Many plans include the ability to record meetings and retain them in cloud-storage vaults or download files directly to a leader's computer. Often, recorded sessions include transcripts plus a video version and separate audio file for use in podcasts. New end-to-end encryption features ensure ultra-secure sessions.
Advanced features enable single-session webinars or multi-day, multi-track online events involving up to 10,000 participants monetized through paid registrations. Those meetings can involve up to 100 interactive panelists and feature live polling showing immediate results. Event software is pricey, climbing as high as $85,000 annually on Zoom for a single license for unlimited events.
Even with all of these features, there are issues, with one of the most common being leaders don't understand how to use settings for maximum advantage, says Jake Van Ness, owner of Elevated Virtual.
For example, breakout rooms are turned off by default in Zoom and can't be activated once a meeting is underway, he explains. Users have several options for suppressing distracting noises on their end, and presenters have the ability to shut off specific microphones, or video for that matter.
"While Zoom has a lot of settings, Microsoft Teams allows a ridiculous amount of customization," he adds. "Presenters should be very familiar with how features work and the settings involved before a session starts. Otherwise, it can be embarrassing to figure out a problem in front of a live audience."
Van Ness says some conferencing platforms are specifically designed with large corporations in mind, while others are better suited for smaller firms. However, people working remotely for big companies may be familiar with Microsoft Teams, but struggle to use Zoom.
Here are the most popular platforms on the market and how they differ.
GO TO MEETING
Launched in 2004, Go To Meeting was the first widely-accepted video conferencing tool embraced by businesses, not just government and universities, says Van Ness.
Now part of a suite of collaboration products, pricing starts at $144 annually per organizer and allows up to 150 participants. The business version sells for $192 annually and enables 250 participants. For another $240 per year, companies can host webinars with six organizers sharing their screens or distributing handouts during presentations.
Go To Meeting doesn't require software to work. Participants get a link to meetings, but organizers grant permission to enter.
ZOOM
During COVID, Zoom became the industry leader due to its low cost and ease of use, says Van Ness. Although the firm had some embarrassing security failures early in the pandemic when hackers were "zoombombing" meetings, that prompted Zoom to patch settings. A popular feature allows presenters to easily transfer session controls to another participant.
Zoom is free to use, provided sessions are less than 40 minutes and involve fewer than 100 people. However, at the 40-minute mark, meetings abruptly end. Packages starting at $149.90 per year remove the time restriction and for $199.90 per year, participants increase to 300.
Other packages specific to business needs include high-definition Zoom Rooms. Meeting organizers must download software to access meetings, though attendees can join via their web browser.
MICROSOFT TEAMS
Microsoft Teams is a popular platform generally used by businesses already using Microsoft 365 products. It offers many customizable settings and advanced security features, says Van Ness.
"Teams is a great platform for internal training because it creates a walled-off garden for use solely by your company's employees," he explains. "Consequently, it is more difficult for people outside the firm to participate in a Teams meeting. It's also harder for a leader to pass the baton to someone not on the Teams account."
A free version allows one-on-one sessions up to 30 hours long, while group meetings for 100 participants are limited to an hour. With an annual subscription of $48 per user, firms enjoy unlimited group meetings up to 30 hours in length and up to 300 participants.
For $72 annually per user, they get access to all Microsoft 365 apps and services. Teams also allows unlimited chatting with up to 300 employees or customers.
WEBEX
For a more robust platform, this software connects hybrid teams of in-office and remote participants via an app or a suite of products. Users customize meeting room layouts with virtual backgrounds and separate breakout rooms. Artificial intelligence removes distracting noises, takes notes or transcribes sessions.
Its Meetings on the Go feature lets participants move seamlessly from cell phone to car to office computers. Webex provides real-time translations for 100 languages. People can also record video to share later, allowing participation unhindered by time zones.
Webex sells equipment from headsets and cameras to desktop monitors — all designed to help people collaborate. A Call Me add-on feature automatically phones participants directly.
ADOBE CONNECT
Adobe Connect is a popular teaching platform because presenters can have multiple objects on a screen simultaneously, says Van Ness. For example, presenters can show video of themselves plus several information slides, a question window and chat box to respond.
While features are plentiful, Connect requires a higher learning curve to use the platform, according to Van Ness. But, its features enable strong audience engagement and session metrics. Once a presenter sets up a meeting screen, it can be saved as a template for future use.
A free version allows up to three participants, while an upgrade enables four hosts and 25 participants for $50 per month, per host. The webinar version starts at $130 a month and allows up to 1,500 participants.
OTHER PLATFORMS
There are more than two dozen other platforms on the market to consider as well. However, the biggest challenge to using other platforms is that participants may be unfamiliar with how the software works. Because the platforms aren't as popular, it can be difficult to find experts to help set up meetings or resolve problems, Van Ness explains.
It's hard to replace in-person meetings, especially for the networking they enable. But, with more companies allowing employees to work remotely and travel being challenging, technology makes it easier to connect anytime, from anywhere.
---
Conference producers ensure smoother meetings
When meetings exceed 25 participants, some companies hire conference producers to handle all technical-related aspects of virtual events, says Jake Van Ness, owner of Elevated Virtual.
While the presenter is speaking, a producer can set up breakout rooms to ensure seamless transitions. More importantly, producers serve as "insurance" against in-session problems.
"Nothing takes the energy out of a session faster than when someone can't share a video or screen, the audio develops problems or the breakout rooms aren't working," says Van Ness. "The minute something goes wrong, a producer can step in to fix the problem and keep the meeting moving without delay."
Producers can also work with participants offline to resolve connectivity problems preventing their participation in a virtual session, he adds. Rather than participants taking up time during a meeting with questions for presenters about a microphone or video camera, a producer can call participants directly to guide them through faulty settings or to troubleshoot an equipment concern.
The biggest problem for many firms is the "heroic leader," says Van Ness. Those are presenters who also set up and troubleshoot technology, take notes, create break-out groups and facilitate discussions.
"Trainers and presenters should be fully present for online meetings without having to worry about the technical aspects of a creating a good session," he adds. "Assign someone to take notes and another person to manage breakout rooms so presenters can focus entirely on their content."
When the meeting ends, a producer can save the files, arrange for a transcript and ensure the event is shared with participants or posted online for others to access at their convenience.