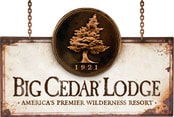 There is much to discover! Big Cedar Lodge is a tribute to the magnificence of nature, the solidarity of history and the joy of family. We are a one-of-a-kind resort dedicated not only to preserving the soul of the wilderness, but to restoring your soul as well.  Here, within a setting of incomparable natural beauty, you'll stay in dramatic lodge-style accommodations, enjoy world-class recreation and amenities and be pampered by a friendly, attentive staff.
612 Devil's Pool Rd
Ridgedale, MO 65739
Start your St. Louis getaway at our hotel overlooking the iconic Gateway Arch. Stay at Hyatt Regency St. Louis at The Arch for access to downtown's most desirable attractions, including Busch Stadium, the Enterprise Center, America's Center Convention Complex, and the Mississippi Riverfront—all located within walking distance.
Connect and collaborate in more than 83,000 square feet of indoor and outdoor space, with expert planning and audiovisual support for inspiring events and impactful meetings.
315 Chestnut Street, St. Louis, Missouri, United States, 63102