Myth-Busting for Hybrid Meetings
Dispelling the top 5 misconceptions about hybrid meetings.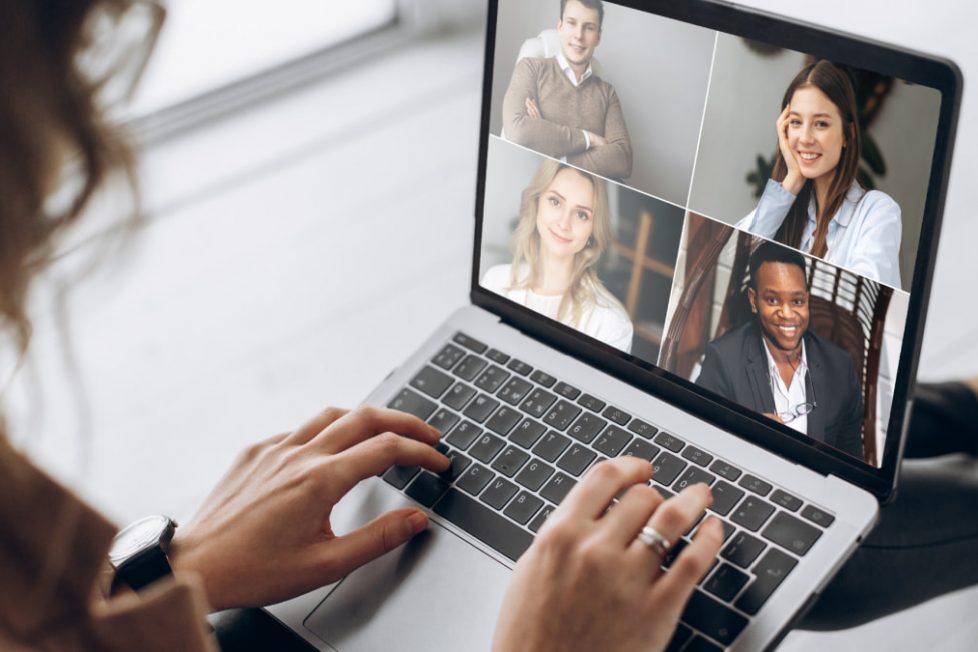 By Ronnie Wendt
Mark Wollskog, owner of Heartwood Resort & Conference Center in northern Wisconsin, has seen the corporate meeting environment change considerably since the beginning of the pandemic. Where national and international companies once gathered the entire staff in one location for annual meetings, they now gather employees by region to participate virtually in a hybrid event.
As Wollskog learned, the pandemic has forced organizations to get creative with meetings. One innovation is the hybrid meeting, which combines the best of in-person and virtual events into a single gathering.
Hybrid events take advantage of all that virtual and in-person events can offer. And they allow people in-person to meet with people in other geographies. These events, when done correctly, can broaden your audience and your exposure, allow meetings to occur amid COVID fears and provide a rich experience for all involved.
Hybrid meetings are not new. They have been around for a while. But as they surge again in popularity, misconceptions surrounding them have also reared their heads.
MYTH 1: The Virtual Part is a Livestream
A hybrid event mixes live and virtual elements. Though it may have live-streamed components, a hybrid event involves more audience participation and engagement from in-person and virtual audiences.
Forrest Doolen, director of marketing and communications for Make-A-Wish Wisconsin, says it's important to inject compelling storytelling into the videos you present. "We work with a video storyteller, who does an excellent job of telling compelling stories through video," he says. "That is important because if your content isn't engaging and people get bored, your virtual audience will stop watching."
The material also must encourage partici- pation from both audiences. Ask for feed- back in real time, encourage interaction between attendees, and include online quizzes or surveys for all attendees.
MYTH 2: A Virtual Component Will Lessen In-Person Attendance
Sometimes planners shy away from hybrid events because they fear the virtual portion will hurt in-person attendance. But most hybrid events draw the same in-person audience while adding a virtual audience too.
Virtual attendees often are people who have never attended the event. And, if these attendees have a great experience virtually, it may encourage them to attend in-person next time.
"With a hybrid event, you can expand your audience," Doolen says. "We may keep our Walk for Wishes as a hybrid event. People can participate in person. But if they want to stay closer to home, they can host a walk in their community. We provide the support, and they do the fundraising. A hybrid event gives you a broader audience."
MYTH 3: You Can Reach Both Audiences the Same Way
A good hybrid event treats all attendees equally. But this does not mean you use the same tactics to engage both. Planners must craft one event offering two vastly different experiences.
When planning an in-person event, the emphasis on the experience remains
the same. You must consider the décor, food, stage, entertainment and more. But beautiful flowers, impeccable décor, delectable food and an impressive stage mean little to virtual attendees.
Be intentional in how you include virtual attendees. Speakers must welcome both audiences. Often speakers and event hosts forget to acknowledge online attendees. And when in-person attendees break for coffee or networking, incor- porate elements into breaks that allow online participants to engage in network- ing activities too.
MYTH 4: The Virtual Parts Will Lack a Personal Touch
If you only give virtual attendees access to a livestream and a platform lacking ways to message in-person attendees or each other, your hybrid meeting will lack a per- sonal touch. Fortunately, there are ways to personalize the virtual components.
Make-a-Wish delivered a personal touch to virtual attendees during its hybrid gala by offering party boxes. Anyone who hosted a virtual event in their home or business could receive a party box to en- hance the experience. The organization offered two types: a dessert box and an appetizer box.
"People loved them. They included champagne and beer, Make-A-Wish swag and treats," he says. "It really added to the excitement."
Hosting virtual roundtable discussions and live Q&As that encourage attendees to network also boosts participation. Produce a video about event staff and what went into creating the virtual event. Feature employees who talk directly to online attendees. Express that you wish they could be there in person but are glad they can join virtually.
MYTH 5: Hybrid Meetings are Hard to Put On
There are resources available that remove the fear factor from hosting a hybrid meeting.
"As a planner, I don't know everything about putting on a hybrid meeting. But I know who to hire to connect the dots between my clients and the venue," says Terri Lynn Yanke, founder and CEO of Eventful Advantage in Madison, Wis.
Many venues offer technology that simplifies hybrid events. Heartwood, for example, added a smart TV and cameras to their boardroom. Now 15 to 20 people seated around a conference table can par- ticipate in hybrid events. Video streaming capabilities are readily available, through Facebook and other sites, and platforms, like Pathable, already have experience with hybrid events and staff ready to assist.
Make sure video streaming and web conferencing technology work seamlessly before the event. And prepare presenters to speak in front of an audience and a camera for recording.
"People want to see and hear each other. Planners want to make sure to communi- cate the pitch, tone and cadence associ- ated with each presentation," Wollskog says. "Work with a venue that offers the technology you need for a hybrid event. Your virtual audience must be able to hear you, see you and communicate with you."
Don't let common misconceptions instill fear. Hybrid meetings offer the best of both worlds during tough circumstances. The pandemic may be waning, but not all attendees are ready to gather face to face.