6 Outstanding Midwest Golf Courses
Try these championship golf courses to wow your guests on your next outing.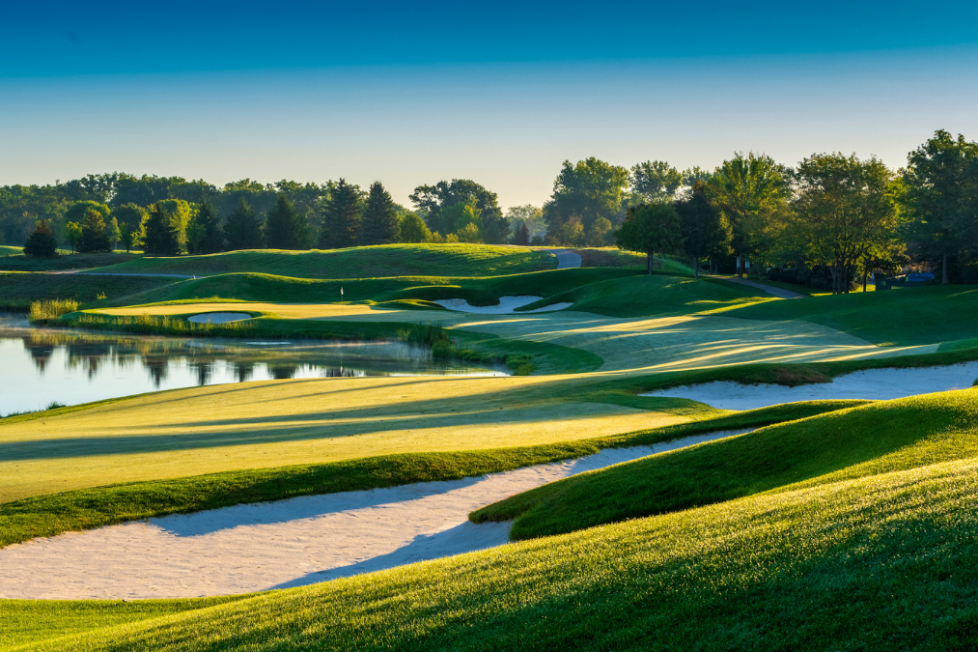 By Greg Gerber | Photo courtesy TPC Twin Cities
Golf outings are outstanding networking opportunities and make for lots of challenging fun. Having the opportunity to play a championship-caliber course is a highlight for many who enjoy the sport. Here are six Midwest courses hosting PGA or USGA tournaments in the coming year to consider for your next group event.
It's a special experience for people to play on the same course professionals do, says Todd Hajduk, general manager and director of golf at TPC Deere Run in Moline, Ill. Few sports offer the ability for fans to employ the same strategies in navigating out of sticky situations or to try a completely different approach to see if they could beat a pro's performance.
"People like playing a round of golf at TPC Deere Run because they can literally walk in the footsteps of the pros," he explains. "Golfers enjoy attempting the same winning shots from the same locations professional golfers did when competing in a televised tournament."
It's a unique twist on fantasy sports because golfers themselves can earn bragging rights by utilizing the same equipment on the same course under similar conditions.
New technology is making it even easier for amateur golfers to feel like professionals, says Danny Rainbow, director of golf at SentryWorld in Stevens Point, Wis. Courses used by the pros often have software available to allow amateurs to enjoy live leaderboards where data is displayed directly on golf carts used by players. The same information appears on monitors at the clubhouse and patios.
"Players love it because they can see leaderboards update every time a score is entered," says Rainbow.
"Golfers really like to see how they are doing against the field during play as well as how their scores compare to specific friends and associates."
Here is a rundown of six Midwest courses hosting professional events in 2023.
TPC DEERE RUN
Built on the site of a former Arabian horse farm overlooking the tree-lined Rock River, there is a lot of history at the TPC Deere Run course, which is only a few miles from John Deere headquarters in Moline, Ill. In fact, each hole has a name reflecting the property's heritage and surrounding land.
The public golf course was built in the late 1990s and has hosted the John Deere Classic every year it has been open. The 2023 event takes place July 6-9. What makes TPC Deere Run unique is there are no homes built along the course — a rarity today.
The course features a full practice area with natural grass and artificial turf. That's important because players tee off on turf and enjoy play on grass.
The clubhouse can host events for as many as 144 players with enough carts to accommodate 76 pairs. The course has partnered with several nearby hotels to create stay-and-play packages.
"Many people think we are a semi- private course, but that's not true. Anyone can come here and play on a PGA course for less than $100," says Hajduk, who notes companies and organizations as far away as Chicago have planned outings. "Our small community's course is one of the best kept secrets in golf."
TPC TWIN CITIES
Its innovative design and reverence for nature make TPC Twin Cities an outstanding championship golf course, says Chris Weinhold, general manager and director of golf. (The course hosts the 3M Open July 24–30.)
Located 20 miles north of downtown Minneapolis and St. Paul, Golf Digest has listed the 7,468-yard, par-72 course as one of the Top 20 golf courses in Minnesota multiple times. Arnold Palmer designed the course to blend seamlessly with the natural rolling terrain of a former sod farm.
"Collaborating with Tom Lehman, a PGA Tour player, consultant and Minnesota native, Palmer sculpted a serene masterpiece," says Weinhold. "It features bentgrass tees, fairways and greens, as well as native prairie grasses, picturesque wetlands and 27 bodies of water, all framed by stately stands of mature oak, spruce and pine trees."
Groundskeepers maintain multiple tees on each hole to enable golfers of all skill levels to enjoy a challenging round. Complementing the golf course is a 27,000-square-foot, double-ended and double-tiered practice facility, which includes more than 12,000 square feet of putting greens plus bunker and short-game practice areas.
TPC Twin Cities hosts dozens of golf outings every year ranging from 8 to 200 people. Depending upon weather, pre- and post-event activities can be set up in the clubhouse or patio. Full corporate or charity golf events take place Mondays for a minimum of 100 players. Smaller groups of 12 to 24 players can be accommodated during the week when sponsored by a club member.
"Our staff will take care of every detail from beginning to end, which allows you to focus on hosting your clients and guests," explains Weinhold.
SENTRYWORLD
Located in Stevens Point, Wis., SentryWorld is one of the premier golf courses in the state, says Rainbow. The course was developed by Sentry Insurance as part of a sports complex. Meeting planners enjoy flexibility in setting up a fully-inclusive experiences at the award-winning course featuring a 64-room boutique hotel and banquet facilities.
SentryWorld will host the U.S. Senior Open at the 200-acre course June 27 through July 2. The course was closed for two years during the pandemic, so staff took advantage of the downtime to redesign the experience to make it worthy of hosting the world's most elite, seasoned golfers.
Every hole features three things all golfers enjoy about a course — playability, versatility and stunning beauty, according to Rainbow. Another unique aspect of the parkland course is that, because it is all-inclusive, players can enjoy unlimited sandwiches, snacks and beverages at two concessions buildings visited four times during a round of play.
While golfers are familiar with water hazards, few have contended with anything like SentryWorld's "Flower Hole," where a sea of multi-colored flowers envelop the putting green on the 16th hole.
Stretching more than 7,300 yards, the course will challenge golfers to use every club in their bag, says Rainbow.
And a new watering system allows groundskeepers the ability to make greens as fast or firm as they'd like, to keep play challenging.
MUIRFIELD VILLAGE GOLF CLUB
Muirfield Village Golf Club is a private course in Dublin, Ohio, that will host the Memorial Tournament May 29-June 4. Golf professionals help raise money for local charities while honoring the contributions and memories of people who distinguished themselves in golf.
Designed by Jack Nicklaus in 1972, the 7,221-yard course is situated on 220 acres, which includes an 11-acre driving range. There are 71 bunkers scattered around the course, and 11 holes have water hazards.
Changes made to the course nearly a dozen years ago lengthened several holes, added more bunkers and rerouted a stream. In 2020, every green was modified, bunkers enlarged and made deeper. mvgc.org
OLYMPIA FIELDS COUNTRY CLUB
Two courses offer unique golfing opportunities at Olympia Fields Country Club south of Chicago, just 10 miles from the Indiana border.
The 7,353-yard North Course has hosted several PGA events and U.S. Opens. The BMW Championship takes place there Aug. 17-20.
Butterfield Creek winds its way through the property to provide a water hazard on seven holes — twice on holes 12 and 14 on the North Course.
The 7,114-yard South Course is made challenging by several elevation changes, hundreds of oak trees, as well as the creek. The landmark English Tudor clubhouse can host private events.
Because this is a private club, groups must have a member sponsor and there is limited availability. ofcc.org
FIRESTONE COUNTRY CLUB
With 54 holes of golf, Firestone Country Club in Akron, Ohio, is sure to challenge golfers of all skill levels.
The South Course, which has hosted 86 professional tournaments, is home to the Kaulig Companies Championship July 13-16. That is one of five major championships on the Senior PGA Tour. It features narrow, tree-lined fairways which make reaching greens challenging enough. But, just try to sink a putt on the constantly sloping greens. Arnold
Palmer nicknamed the 667-yard 16th hole "The Monster," and the par 5 has been challenging golfers ever since.
The North Course features thick trees and water on half of its holes. It's not as challenging as the South Course, yet requires proper risk assessment and precision in selecting shots to avoid penalties. It hosts the American Golf Classic and World Series of Golf.
The Firestone Fazio Course is the newest addition. Featuring angled tee boxes and fewer trees, but challenging slopes, this course hosts the Ohio Senior Open.
Whether planning conferences, trade shows or team-building events, Firestone Country Club has several halls and banquet rooms available. The staff can also help with decor, food and entertainment as well as planning corporate golf outings or tournaments. invitedclubs.com/clubs/firestone-country-club
---
Greg Gerber is a freelance writer who splits his time between Arizona and Wisconsin.