Resort Retreats
Discover a destination that offers turnkey services for your group.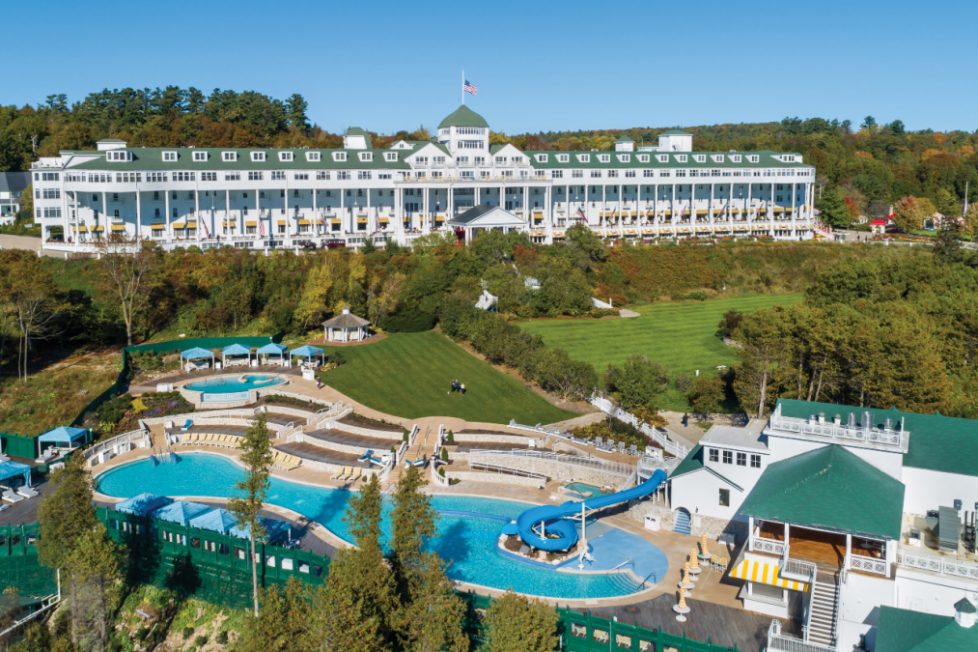 By Paula Hendrickson | Photo: Grand Hotel
Whether they're luxurious, restful or rustic, resorts offer guests a chance to get away from the daily grind while allowing others to take care of the details. That makes resorts a great option for business meetings and conferences.
Most resorts have in-house event planners ready to coordinate gatherings of any size, many offer on-site activities, and all can provide a central location that eliminates the logistical challenges of transporting attendees to and from multiple venues. On-site catering is also a plus.
"We've had corporate events that hosted interviews for only two people, and we've had events where we maxed out at 250," says Arielle Niemeyer, marketing director of Pere Marquette Lodge & Conference Center in Grafton, Ill.
Niemeyer says the resort's on-site event planner has been coordinating events for over 15 years. "Tell us the date you're looking at and pick menu options. Other than that, we really take care of everything, so it's stress free." You can opt to house attendees in the hotel or its 22 original rustic cabins located a few yards away.
If you're looking for the opportunity to disconnect, then consider an island where time seems to slow down. On Mackinac Island, located just off Michigan's Upper Peninsula, cars are prohibited, and visitors tour the island via foot, bicycle or even horse-drawn carriage.
"Grand Hotel offers modern amenities and venues in a historic setting that are designed to inspire, creating one-of-a- kind experiences for your attendees," says Jen Moeckel, director of sales at Grand Hotel, which is accessible via frequent ferryboat service. "Our professional conference services team will assist in planning the details to ensure your attendees have a truly 'grand' experience."
Gunflint Lodge & Outfitters, a 97-year- old resort near Grand Marais, Minn., offers one-stop-shopping. Its events coordinator, guest services manager and restaurant manager collaborate to ensure all your needs are met. It specializes in hosting groups up to 144 in well-appointed, year-round cabins; in warmer months it can accommodate 45 more in rustic seasonal cabins.
"We have small spaces that are ideal for board meetings, executive meetings or presidents' clubs," says Gunflint co-owner Mindy Fredrikson. "Because we're small and family-owned, we have the ability to provide a lot of attention and deliver a custom event that's not like anything they're going to find any place else."
MEETING AMENITIES
Grand Hotel's convention rates include meeting spaces, access to an extensive selection of AV equipment, banquet music and even tennis court time. With a combined 22,000 square feet of meeting space, it can accommodate groups from 12 to 1,000.
At Pere Marquette every detail is custom planned, right down to refreshments. "Some want to do breakfast and lunch and let their guests go to dinner on their own. Others might want something simple like snacks or coffee. We can accommodate full catering, full bar service, whatever they want," Niemeyer says.
Due to Gunflint's remote locale — it abuts the Boundary Waters Canoe Area Wilderness, which is over a million acres of undeveloped wilderness — Fredrikson recommends requesting any special AV equipment ahead of time. "We definitely have the technology, solid Wi-Fi and AV equipment for our large event center, but we want to make sure everything is set up and ready."
ACTIVITIES
In addition to tennis, The Grand Hotel offers a wide range of activities, from golf, horseback riding and biking to a relaxing spa. The Woodlands Activity Center is home to a BMX course, lawn games, archery and there's mini-golfing in the forest.
"Iconic views, world-class cuisine and stellar service will allow your guests to be productive and make this an unforgettable destination," Moeckel says.
When attendees aren't working at Pere Marquette, groups can opt for guided hikes through the 8,000-acre state park that surrounds the resort, sample local wines in the lodge's Mary Michelle Winery, enjoy a sauna or even play chess on a life-size chessboard.
Gunflint's activities vary by season, but there's always plenty to do. "Whether you want yoga or massage or forest bathing, we're able to craft experiences for whatever our guests want. We can be very inclusive in putting together packages with everything you want, right up to teambuilding activities on our zipline," Fredrikson says. "It's not going to be a cookie-cutter experience. It's going to be a unique and special experience crafted to a small group."